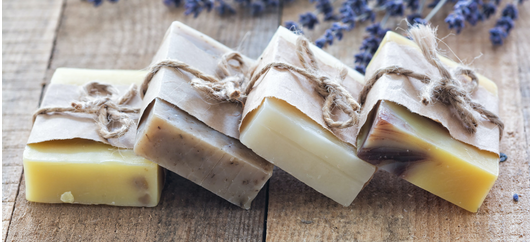 Introduction to Breastmilk soap
Breastmilk soap is far less common compared to regular soaps. But if you can spare some of your excessed milk, it might just make the perfect soap for you and your baby. According to many sources, it is the new "Liquid Gold" in the soap industry.
Benefits of breastmilk soap
Milk is my all time favourite organic ingredient, as it provides real value. It contains essential proteins, amino acids, and vitamin A, which nourishes skin. Milk is also rich in lactic acid, which cleanses and softens. Of course, most milk-based beauty products contain Goat's milk or Cow's milk not Breastmilk. However, Breastmilk, like other milk contains skin healthy substances (fats, vitamins, proteins, and more).
Benefits of breastmilk soap for mothers:
Breastmilk soaps can help to relief Eczema & itching skin. It has effective cleansing properties and it helps to lighten pigmentation on the skin, moisturize and soften the skin. It also treats acne for acne prone skin, promotes healing properties for cuts and minor infection.
Benefits for the child:
Breastmilk soaps may help to prevent developments of Eczema. It contains strong antibody & antioxidants that provides antibacterial, healing properties. It helps to relief rash, cord stump and circumcision wound. It has Immunologic properties to boost & strengthens immune system. It is effective in cleansing, soothing and moisturizing of the skin.
Is breastmilk soap safe?
According to La Leche League, "Human breast milk may aid healing." Hence, this is why it is recommended that you rub fresh breastmilk on cracked and sore nipples. The breastmilk may even offer antibacterial protection. La Leche League also notes that "Breast milk has no adverse effects for either mother or baby unless the mother has a yeast infection. Because yeast thrives in human milk." Sharing breast milk is not considered completely safe, even by huge breastfeeding advocates unless the milk has gone through a HMBANA milk bank. That said, keeping your breastmilk soap within the family is probably a good idea.
Disclaimer:
People's bodies absorb things differently. We suggest to use your own milk and that you are sure its free from staph, yeast infection or other disease before you using it on you or/and your baby's skin. Soap Ministry will not be responsible for any condition using individual breastmilk for soap production.
Soap Ministry breastmilk soap making services
Soap Ministry is founded since 2010 and we have a wealth of knowledge in skincare and soap making. Soap Ministry organically handmake your breastmilk soap using Cold Process Method which helps retain most of the nutrients within the breastmilk soap. We provide a wide range of natural ingredients to create the best formulation to retain the breastmilk nutrients from within and compliment it with pure premium ingredients such as Avocado Oil, Extra Virgin Olive Oil, Castor Oil, Extra Virgin Coconut Oil, Rice Bran Oil and more that produces natural glyercine treating your skin with the luxurious benefits from your breastmilk.
Freshly made just for you
Soap Ministry cater special time to handmake your Breastmilk soap alone by itself at a time. This is to ensure hygiene, personalization and customization during the making process to bring the best out of its freshness.
Personalization
Soap Ministry allows you to choose your scent using our 100% Pure essential oils and the design of your breastmilk soaps.
Essential Oil
There are 3 essential oil scent to choose from: Lavender, Lemongrass and Geranium. You can get your soaps unscented as well which is highly recommended for infants
Designs
There are 3 different designs to choose from: Rectangular small bar (70g/pc), Square Bar (100g/pc), Assorted designs
CHARGES
Weight of soap: 500g Breastmilk soap required: 150ml+ Cost: $75 Approximate bars of soaps: About 5-6 Weight of soap: 1kg Breastmilk soap required: 300ml+ Cost: $135 Approximate bars of soaps: About 10-12 Weight of soap: 2kg Breastmilk soap required: 600ml+ Approximate bars of soaps: About 20-24
How to order?
Simply deliver your frozen breastmilk to any of our outlets and our staff will weight the amount of frozen breastmilk given, fill up a simple form with your choice of scent, cut and sizes for your soap.
Terms & Conditions:
1. Breastmilk MUST be frozen in disposable bags. 2. Breastmilk received insufficiently and in liquid form will be discarded. 3. All excess breastmilk will be discarded. 4. Full payment is required. 5. Processing Time: 3 Days 6: Curing Time: 2-3 months DISCLAIMER: People's bodies absorb things differently. We suggest to use your own milk and that you are sure its free from staph, yeast infection or other disease before you using it on you or/and your baby's skin. Soap Ministry will not be responsible for any condition using individual breastmilk for soap production.
Avocado Oil
Avocado Oil has wonderful moisture retaining abilities which makes it an excellent moisturizer for dehydrated skin. The oil is easily absorbable & thus penetrates deep into your skin, leaving it nourished & soft.
Extra Virgin Olive Oil
Extra Virgin Olive Oil is used since ancient time, people have taken advantage of the skin-softening benefit of this miracle oil. When made into soaps, olive oil contributes to smoother, more elastic skin.
Shea Butter
Traditionally Shea Butter is used to reduce the appearance of fine lines, scars and scratch marks & to ease varieties of skin irritation. Shea Butter melts on contact and is readily absorbed into the skin, without leaving any residue.
Extra Virgin Coconut Oil
Extra Virgin Coconut Oil has natural antibacterial, antifungal and antiviral properties. It can also be used on face without worrying about breakouts. It is also good in treating acne and eczema.
Golden Jojoba Oil
Jojoba Oil has many organic and mineral ingredients which gives a wonderful and nicely groomed skin. It helps to fight facial lines, skin scarring and fatty tissue. It is also efficient on challenging skin circumstances like acne, skin psoriasis. Jojoba Oil reduces annoyed skin and improves the natural development of collagen.
Sweet Almond Oil
Almond Oil is known mostly for its moisturizing effects which prevents dehydration of skin. It has cleansing, anti-inflammatory and nourishing properties too. Almond Oil is often used to treat very dry skin. It is also known for its healing properties when used on the skin like psoriasis, eczema, sunburn and dermatitis.
Palm Oil
Palm Oil has deep moisturizing properties leaving the skin feeling soft, smooth and supple, especially for those with dry skin. It is also great for the treatment of skin ailments such as psoriasis, eczema, stretchmarks and scars. It fights against skin aging, by protecting the skin from free radicals, toxins and harmful UV radiation that cause fine lines and wrinkles.
Grape Seed Extract
Grape Seed Extract has an anti-free radical & anti-bacterial benefits. It has high antioxidant properties that prolong the shelf life of the soap. It also gives your skin the extra radiance and prevent dullness of the skin.