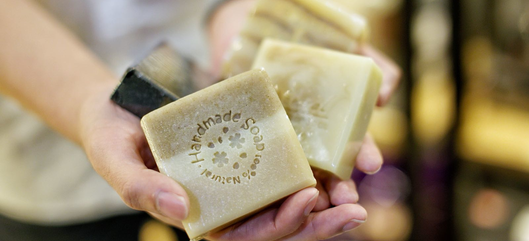 Soap Ministry Cold Process Soap Making Workshop Testimonial
Aung kyaw
Aung Kyaw attended Soap Ministry Cold Process Soap Making classes and had a great experience here with us.
Soap Ministry Cold Process Workshops
Soap Ministry uses all-natural ingredients such as palm oil and coconut oil to create all-natural, skin-loving soaps. Through our workshops, our customers get to learn the traditional way of making soaps formulae making, recipe, oil benefits for the skin and all the different soap making techniques !
Our Workshops
We have 7 different Cold Process Soap Making workshops where different soap making techniques and designs will be taught. -CP1 Gardener's Hand Soap* -CP2 Facial Treatment Soap* -CP3 Body Treatment Soap -CP4 Layering Soap -CP5 Castile Soap -CP6 Basic Swirls Soap -CP7 Goat's Milk Soap or Breastmilk Soap *CP1 and CP2 are compulsory workshops lessons to attend before proceeding to other lessons such as CP3.
HERE'S WHAT SHE SAID
"Thank you so much for walking through the soap making process, I loved the class and everything was so great! Diana, you are a fantastic teacher with wonderful patience and explained each step perfectly. I had a great experience during the Cold Process Soap Making. I don't have knowledge of that but after a few days @Soap Ministry Pte Ltd Singapore class I felt that I got informed of the Saponification Process! I couldn't imagine that the class Diana Ong taught! It was a perfect introduction to beginners. Highly Recommend !"
Soap Ministry is thankful and happy that we are able to guide and teach our customers the knowledge behind soap making and the techniques of Cold Process Soap Making. Aside from Cold Process Soap Making workshop, Soap Ministry also has liquid soap making workshops and bath bomb workshops as well !