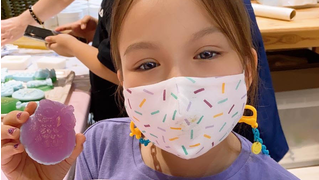 Make New Friends
Meeting new people is paramount for developing social skills in children. Children can learn from one another and get inspired together. They can spend time and share experiences with peers. Children learn better through fun play and engaging activities. Through play, children mature emotionally and gain the self-confidence required to engage in new experiences and environments. Soap making is fun, guaranteed. Using different tools, unique moulds, mixing and matching random colours, your children will have fun experimenting and getting inspired. Soap making workshops are ideal for children to create new and unique memories of their time. Playing and interacting with new friends is a great way for your children to spend their school holidays. Fun is amplified with friends!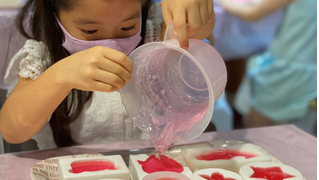 Creative Outlet
Creativity enables children to have different perspectives to better deal with uncertainty, emerging as efficient problem solvers. After all, a creative and adaptable mind is highly sought after in the ever-evolving work markets. Hence, it's imperative to cultivate creative thinking in children from their formative years. Creativity is more nurture than nature, an ability that parents can facilitate among their children by providing them with an outlet. Soap making workshops give your children the freedom to truly express themselves. Soap making not only allows your children to be creative but also doubles up as an opportunity to develop their cognitive abilities and motor skills, placing them well ahead of their peers. Children can also sharpen their scent palette by creating a unique fragrance using a blend of the different essential oils.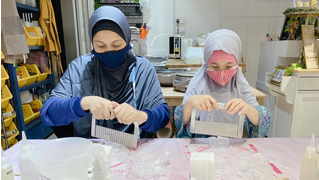 Bonding Session
Bonding sessions between parents and children foster a stronger sense of security and encourage positive self-esteem in children. Deep intimate relationships with parents promote children's cognitive, emotional, social and academic developments. During bonding sessions, parents can learn about their childrens' strengths and weaknesses. This enables parents to better cater to their child's needs and promote positive self-esteem in their children. Soap making workshops provide an avenue for parents to bond with their children by having fun together as a family. During the workshops, parents can witness their children's artistic visions take flight. Both parents and children can bond in an intriguing yet relaxing and therapeutic environment.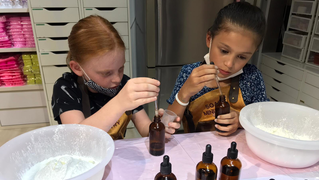 Educational Value
A creative and fun bonding session with your children can also have educational value. Through soap making workshops, your children will harness their entrepreneurial mindset. Your children can learn to make and sell their soaps by understanding budgeting, cost analysis and profit margin. They will gain a deeper understanding of their target audience and the different platforms available to sell their products, be it via a physical store or online. Not just business concepts, your children will learn the conservational value behind soap making. By using non-toxic and biodegradable ingredients, your children will learn to benefit our eco-system and help Singapore reduce energy & cost in recycling our water. Children can also learn the different herbs and their benefits. They will learn how to assemble raw ingredients to make a product. Through understanding, the values behind soap making helps your children broaden their minds and appreciate the world around them.