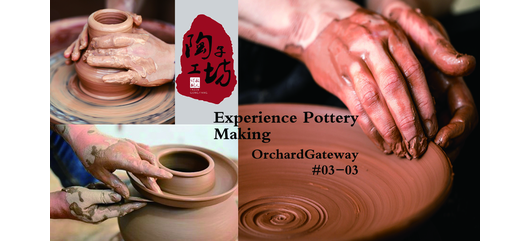 TAOZ CERAMICS CHRISTMAS BLESSINGS LUCKY DRAW SPONSOR
Taoz once again become our neighbour at orchard gateway ! For sure we will continue this relationship. Look out for our next year collaborations. Making your own pottery seem like a difficult project, but now, everyone can have the opportunity to touch this traditional style of art and have his or her own masterpiece. A warm welcome from Mr. Taoz the owner and all the friendly staff will gladly guide you through this relaxing process. Sign up for single experience or become a member is totally up to you. But it sure is worth it.
GET A CHANCE TO WIN: CERAMICS BASIC WORKSHOP DISCOUNT VOUCHER
Taoz ceramics is sponsoring us for Christmas blessing gift set Lucky draw to support NCCS (National Cancer centre) too and if you purchase a gift set at our outlet at Orchard gateway it means you will have a chance to get discounted voucher for their basic workshop !
HOW TO:
1. Head down to Soap Ministry at Orchard gateway 2. Mix and match your Christmas gift set start from $18 3. Leave your name and number 10% of your total purchase will be donated to NCCS (National Cancer Centre Singapore) Order via whatsapp: 1. Whatsapp 96695953 2. Let us know your budget 3. Your details (name and number) 4. Make payment Note: Self collect only
PROMOTION PERIOD:
Purchase until 31st Dec 2019 Winner will be announced: 31st Jan 2020 Gift collection: Feb - April 2020
CHRISTMAS BLESSING GIFT SET
MIX AND MATCH YOUR OWN GIFT SET START FROM $18 ! WIN A CHANCE TO GET LUCKY DRAW WORTH UP TO $500 FROM OUR SPONSORS